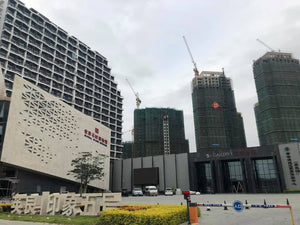 Tom Kapitany - Geologists Travels - Global Stone Museum in China
The Global Stone Museum is nearly complete, with many fossils being prepared for display in the new galleries.

The official opening will still be a year away.
Shuitou Fujian Prov, China.
—
全球石材博物馆已接近完工,许多化石正准备在新画廊展出。
官方开幕还有一年的时间。
中国福建省水头。
I had two meetings today at the Behring headquarters in Shanghai.

Discussing marketing as well as how to introduce Global Natural History Day to Australian students.

They will invite 12 students from Australia to participate in the competition and activities in Shanghai for 10 days in July next year.

I have created a Facebook page about this event and I will update it with information and videos in the next two weeks. We had Chinese Hot Pot for lunch.
—
我今天在上海的贝林总部举行了两次会议。

讨论营销以及如何向澳大利亚学生介绍全球自然历史日。

他们将于明年7月邀请12名来自澳大利亚的学生参加上海的比赛和活动10天。

我创建了一个关于此活动的Facebook页面,我将在接下来的两周内通过信息和视频对其进行更新。 午饭吃了中国火锅。
---